>
X
Loading... UCAT Preparation: 6 UCAT Tips For 2022 Success
The UCAT is one of the most daunting parts of the medical application process. The exam format might be unlike any other exam you've sat, and with strict timings it can feel overwhelming to begin with. Luckily, careful UCAT Preparation can help turn one of the most intimidating parts of the process into one of your strongest.
When thinking about how to prepare for the UCAT it can often be tricky knowing where to start and what to prioritise. We know that time is often very tight, with applicants managing UCAT Preparation, writing personal statements and other academic commitments all at the same time.
This article is here to help you to prepare the best you can. We'll cover our six key UCAT preparation tips to help you to succeed!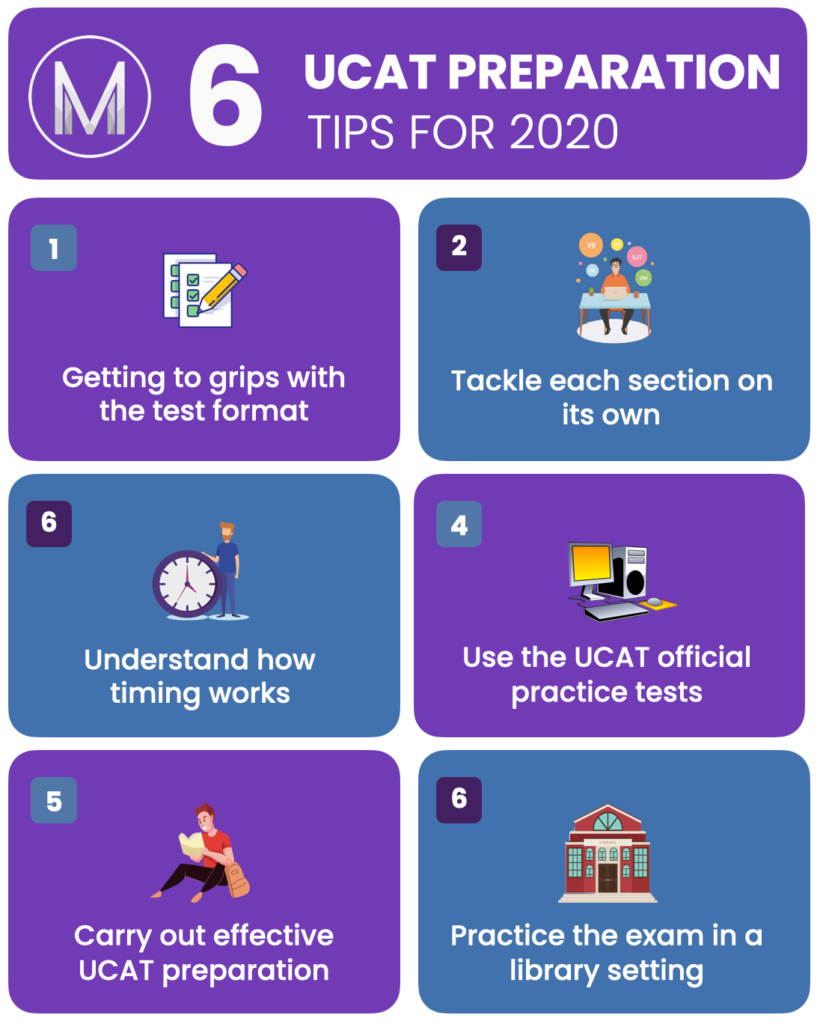 1. Getting to grips with the test format
The first and arguably most important thing to do for your UCAT preparation is to research and fully understand what the exam is testing you on. In particular you should make note of the exam format and question types. The best starting place for this is the official UCAT website and our other UCAT blog posts may help too. You should look at details of the five test subsections:
Verbal Reasoning
Abstract Reasoning
Decision Making
Quantitative Reasoning
Situational Judgement
Once you understand the scoring system and what is being tested in these sections, you can begin to prepare effectively for each one to maximise your potential score. If you are still struggling to under how the test is scored then take a look at our UCAT scores guide for more information.
2. Tackle each section on its own
A key aspect of good UCAT preparation, and therefore a good performance, is making sure you have prepared well for each and every section. This starts with understanding what is being tested and structuring your preparation to target this. The most straightforward example of this is Quantitative Reasoning.
The Quantitative Reasoning section assesses your basic mathematical ability and how you use these skills to problem solve. The academic level of these questions is to that of a good pass at secondary school, however the questions focus more on how you apply this knowledge rather than your numerical facility. This means practising your basic maths you can target this section.
Each section is testing a completely different skillset. You can find our specific advice for each of these by here:
Each of these articles will guide you through our top tips to help you to tackle these sections. They'll also look at some of the specific techniques required to ace each area of the test.
If you are finding one area particularly difficult – and this is not uncommon – then it may be worth getting some external help in which case you may find one of our Medic Mind 1-2-1 tutoring useful. These sessions can be tailored to meet your exact needs, helping you to master each section.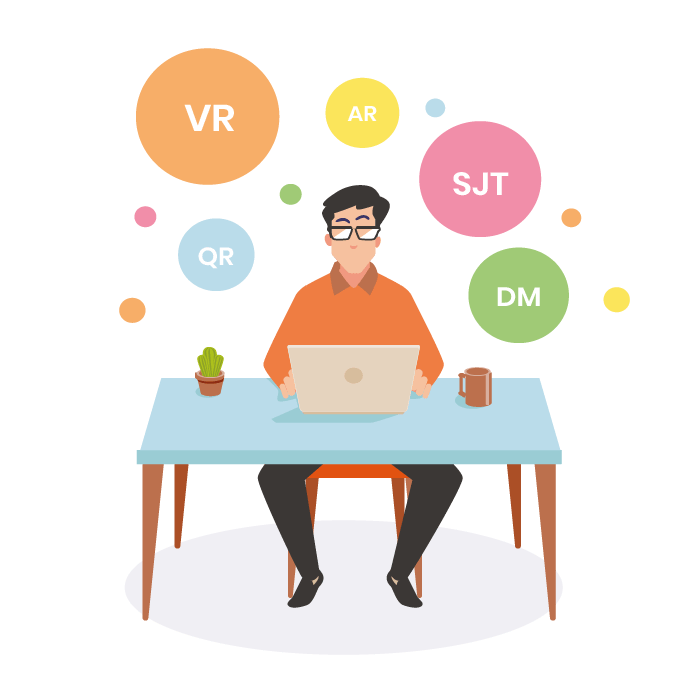 3. Understand how timing works
One of the problems that students commonly face with the UCAT is the notoriously tight time pressure. Some of the sections only have about 15 seconds per question. This means that thinking about time management early on is key. Remember: there's no point striving for full marks in your strongest section if it costs you 200 points on your weakest.
| Subtest | Time | Number of Questions |
| --- | --- | --- |
| Verbal Reasoning | 22 minutes | 44 |
| Quantitative Reasoning | 25 minutes | 36 |
| Abstract Reasoning | 14 minutes | 55 |
| Decision Making | 32 minutes | 29 |
| Situational Judgement | 27 minutes | 69 |
| Total | 120 minutes | 233 |
Break down of test sections
You should start practising with a clock running from quite early on in your preparation so keep an eye on how long you're spending on each question. You don't need to put too much pressure on yourself to begin with, but it is important to understand how long each question is taking you. This means as you get closer to your UCAT you can look at applying timing techniques during your practise to try and improve your efficiency.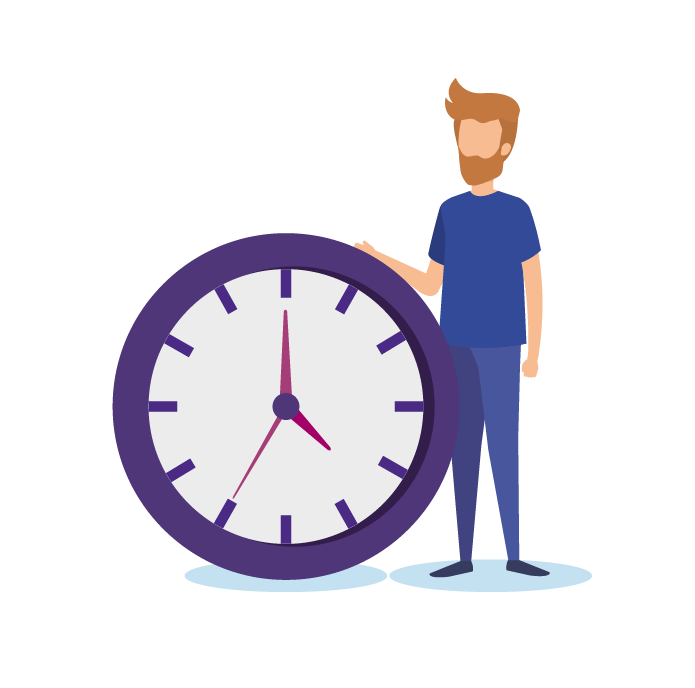 4. Use the official UCAT practice tests
Practice exams should form the largest part of your UCAT preparation. These will give you the closest experience to what the actual test will feel like and allow you to apply all of your preparation in a realistic way.
A great source of free practice exams is again the UCAT website. These allow you to become familiar with the computerised test format as the layout is identical to that of the real exam.. Other resources to practise with can be found in our UCAT Resources blog post. If you want to take your UCAT preparation to the next level you could go through a full mock UCAT with one of our tutors.
This can be particularly helpful as it will allow you to explore any questions that you may have struggled with, allowing you to learn from them and improve.
Try UCAT Tutoring today:
UCAT Tutoring
5. Effective UCAT preparation
With UCAT preparation it is very easy to get overwhelmed and find yourself doing question after question without improving or learning from your mistakes. This is why effective preparation with clear goals is the key to success.
Set yourself manageable targets for each day and ensure you review questions you get wrong to make sure you learn from your mistakes. This could be based on number of questions, sections covered, or just a certain question type you find hard. It's useful to make a note of areas you're doing less well on and making sure you cover these in more detail.
Make sure you give yourself adequate time to prepare. Try to avoid doing it all at the last minute, allowing for manageable chunks of preparation each day.
6. Practice in a library setting
A helpful tip is to arrange to do a full 2 hour practice test in your local library. Being out of your comfort zone in a quiet communal space will help stimulate the final exam, especially if you have been doing most of your revision at home.
Quite often the computers at libraries are older and similar to the computers you will find at the test centre. If you've been revising using a laptop or tablet it is particularly useful to try the experience with a desktop mouse and keyboard. It may sound silly but learning how it works can save you precious seconds that eventually add up to extra marks!
UCAT Preparation: Conclusion
The UCAT can seem like a very daunting process. It is one of the main obstacles for getting into medical school for many applicants. The key to success with the UCAT is thought-out and effective preparation.
As this article shows, things such as making sure you don't neglect any sections and that you are on top timings is crucial. Hopefully this guide will have given you the insight you need to begin this process, and ultimately lead you through to UCAT success.